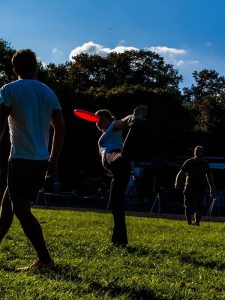 Window (noun)
A term that describes the level of restriction for a given Frisbee trick. The disc must travel "through the window" for the trick to be completed. For example, an under the leg catch requires the disc to pass completely under the leg before it is caught. This is a relatively large window since; the leg does not restrict hand movement, hand movement does not restrict leg movement, there is ample space between the leg and the ground, and body timing is fairly simple. A flamingitosis, on the other hand, has a very small window since; body position restricts hand movement and timing must be precise for the disc to fall into the hand.
Alternate term for a Hoop.
A specific type of hooped pass where the hoop is created by assuming a bad attitude position.
Example: How did she get the disc through that tiny window?